Let us clear the way for a stress-free winter.

Snow Removal Service for Commercial and Industrial Properties
Winter can be tough on your business, but Vanica Inc. Snow Removal is here to help. Our team of snow removal experts specialize in commercial and industrial properties, offering a range of services to ensure your property is safe and accessible during the winter months.

Our nightly inspections guarantee that your property will be kept safe even during heavy snowfall and with 24/7 dispatch, we're always available to help, no matter the time or day. Don't let winter get in the way of your business - contact Vanica Inc. Snow Removal today for a hassle-free winter season.
Our Commercial Snow Removal Services
Our team of snow removal experts provide a range of services to ensure your property is safe and accessible all winter long.

Snow Plowing
When it comes to the winter season, you want to make sure that your business stays operational no matter how much snow Mother Nature decides to throw your way. We pride ourselves on having a fleet of vehicles that can handle any amount of snow, ensuring that your business property remains safe and accessible at all times.


Sidewalk Snow Clearing
Our dedicated sidewalk crew will keep your sidewalks clear, reducing the risk of slip and fall accidents. Stairs, walkways and entranceways are cleared and salted so patrons can navigate safely.


De-Icing Services
Our de-icing services will prevent ice buildup on walkways, parking lots and roads, while our snow relocation service means you won't be left with piles of snow obstructing your property.


Snow Relocation Services
Snow relocation services, are crucial for snow removal, but are often overlooked and undervalued. Property owners may not fully comprehend the danger posed by snow mounds in frequently used areas. Vanica Inc. provides prompt and efficient snow clearing services to alleviate property owners' concerns.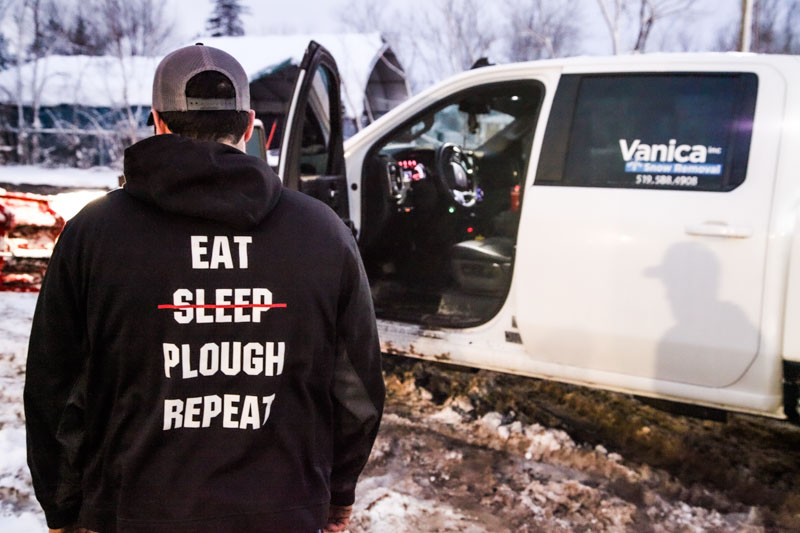 24/7 Dispatch
Our 24/7 dispatch service means that we're always on call and ready to respond to your snow removal needs, no matter what time of day or night it is. With our state-of-the-art equipment and highly trained team of professionals, we can quickly and efficiently clear your parking lot, sidewalks, and other areas to ensure that your business stays accessible and safe for your employees and customers. Don't let snow and ice slow you down this winter - trust us to keep your business moving forward, no matter what Mother Nature throws your way!
Request a Quote
Stop stressing about the weather. Fill out the information below and we will contact you regarding a site visit and a quote.